ABOUT our E-JUICE: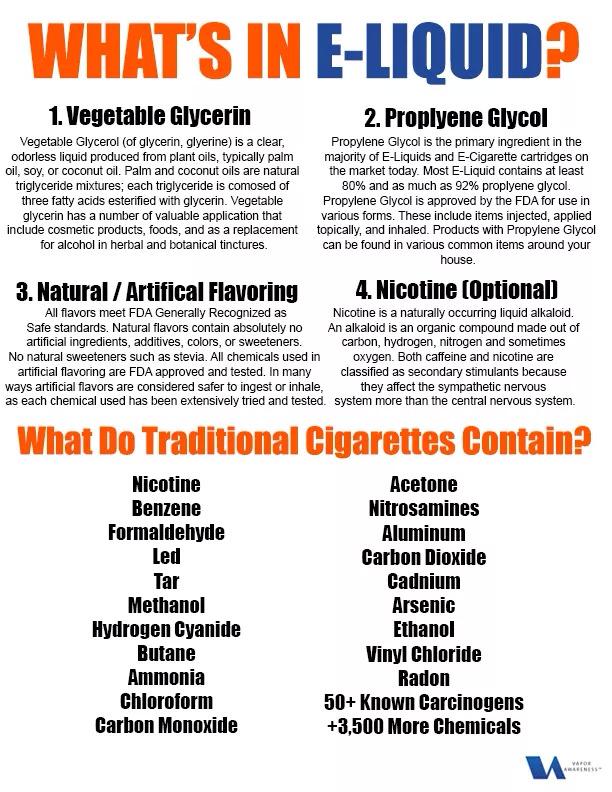 There are only 4 components we add to any juice, 100% Kosher USP Food Grade Vegetable Glycerine(VG), Pure USP Food Grade Propylene Glycol(PG), Natural and/or artificial flavorings, and nicotine. All of these High Quality ingredients are made in the USA. All e-juice is blended at a 50/50 PG/VG, 20/80 PG/VG or MAX VG ratio for the largest vapor production and amazing taste!
Also, Quit that Grit Vapors E-juice is always mixed fresh, right here in South Central PA! We dont have bottles of e-liquid already made up in a warehouse like you might buy elsewhere. Always made fresh when you order it!
Quit That Grit e-juice is made in a clean room with sterile stainless steel workspace, decicated only to mixing e-juice. We do follow AEMSA Standards for e-juice manufacturing.
These flavors listed are made with Sucralose based sweetener: Blueberry Creamy, Creamy Berry, Key Lime Pie, Yellow Snack Cake, Crispy Crunchy Candy Bar, Vanilla Cupcake w/ Icing, Peaches and Cream Vanilla Buttermint.
CUSTARD NOTES: Defined by AEMSA as "Flavor compounds that impart a buttery, creamy, or custard taste or sensation. Most
commonly used are acetoin, acetyl propionate and diacetyl"
Our flavor suppliers claim NO DIACETYL in their products, we can not make that full claim ourselves until lab tests are released.

Curious about Diacetyl? Mt Baker Vapor did a great piece on it http://blog.mtbakervapor.com/the-truth-about-diacetyl/
Our child safefy caps have been determined to be in compliance with Consumer Product Safety Commission standards as outlined in section 1700.15 of title 16, Code of Federal Regulations.
DISCLAIMER/ADDITIONAL INFO:
If you have any allergies to certain fruit flavors or any types of flavors, please do not choose those types of flavors.
The following flavors do contain sucralose(sweetener): Blueberry Creamy, Creamy Berry, Key Lime Pie, Yellow Snack Cake, Crispy Crunchy Candy Bar, Vanilla Cupcake w/ Icing, Peaches and Cream Vanilla Buttermint.
New vapors might not understand it is important to drink water more often if they dont usually do so. If you experience any headaches or feel dehydrated these are signs you need to drink more water throughout the day.
If while vaping you experience shortness of breath or your lungs hurt, you may have a sensitivity to PG, which is somewhat common. You will need to try a higher VG blend or MAX VG blend of juice. It could also be a flavoring issue as well. Try to cut out components until you figure it out(process of elimination).

These products are of course only for adults, if you are under 18, please leave the website as this is for adults only. Please do not supply to minors. When you pay, you must agree to these terms.
Keep all vaping supplies away from children and pets, please!
WE DO HAVE WHOLESALE PRICES, PLEASE EMAIL support@quitthatgrit.com FOR MORE INFO!
About the owner:

I was a pack a day smoker for 15 or so years, and stumbled upon vaping while browing youtube... Once I got my first order in the mail, I havent looked back at any tobacco products. Its been since August 2013.
Together we can all move past tobacco addiction, and focus on a more healthy lifestyle! I can only speak for myself, but tons of others say it as well, that I feel much better, can breathe easier, taste foods again, and im just in a better overall mood with vaping instead of smoking.
John Hileman - Owner
VAPE ON EVERYBODY